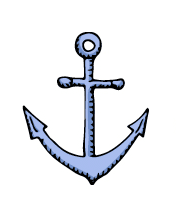 The Whitsundays would have to be one of the world's most ideal paddling playgrounds. The only vessel in the Whitsundays to offer a unique guided kayak adventure. A Summertime voyage promotes eco friendly exploration of the islands as you glide quietly into hidden inlets or secluded beaches. The odd turtle might escort you as you head towards the far reaches of a pristine inlet…Ancient trees and ferns slide by as a sea eagle soars magnificently overhead and as the crystal clear water shallows, all kinds of marine life can be spotted below.
Alternately, embarking on a longer blue water expedition from one cove to another with the Coral Sea stretching endlessly before you is an exhilarating and breathtaking experience. There is so much wildlife to see and endless waterways to explore in the Whitsundays, many accessible only by shallow water craft.
Our kayaks carry two people, are extremely easy to paddle, stable and very comfortable. Kayaking is a great way to explore with minimal human impact. Our crew possess an intimate knowledge of the islands, their wildlife and ecology. As they guide you through this ancient marine wonderland, you not only enjoy a lot of fun and some amazing scenery but also gain valuable insights into the unique heritage of this amazing island chain.
Snorkel the fringing reefs in the Great Barrier Reef Marine Park
Snorkelling in our local area of the Great Barrier Reef Marine Park is rated among the best in the world. The year round water temperature in the Whitsundays stays close to 25c so you can swim with turtles, huge gropers and play with schools of tropical fish any time of year.
Combine a great sailing adventure with snorkelling in one of the world's most spectacular cruising grounds you can snorkel straight from the side of the vessel or be taken closer to shore aboard our tender.
This is our paradise – we would like to share it with you!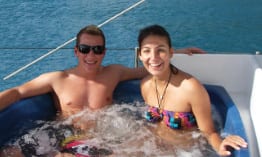 Summertime's aft deck space is home to our fresh water heated Jacuzzi. It is the ideal place to relax after diving, snorkelling or kayaking.
Our comfortable spa is heated via a quiet diesel generator and we can easily adjust the temperature to suit the prevailing conditions. It is simply awesome to climb in after a scuba dive and gently feel the hot bubbles sooth tired limbs.
The highlight of the day will always be to relax in the hot tub as you sip on a glass of bubbly and watch the sun set slowly over the islands.
Pure bliss….
Please note kayaking and the jacuzzi are only available on our overnight tour.